12v mini offroad Landrover, not Toylander/Totrod with offroad trailer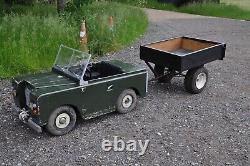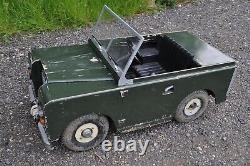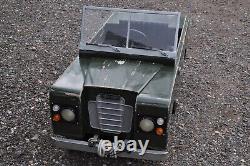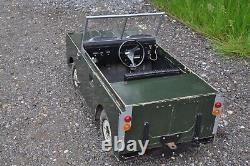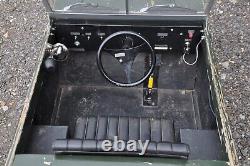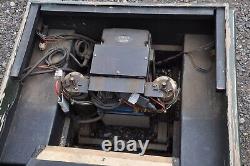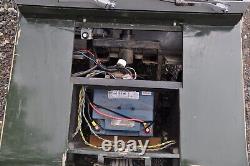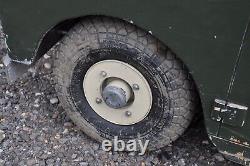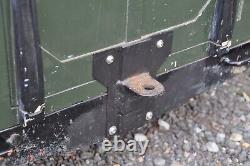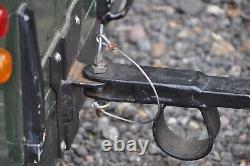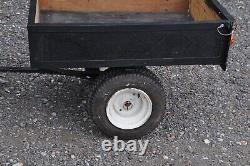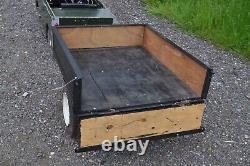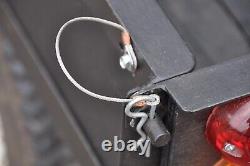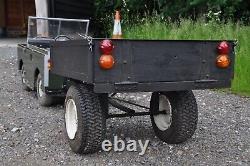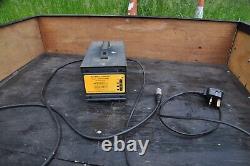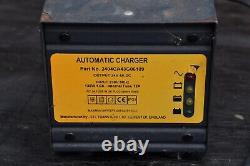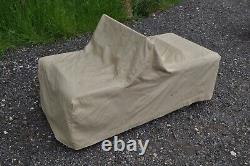 12v mini offroad Landrover, not Toylander/Totrod with offroad trailer. Built by a very good friend for his daughter who hardly used it, when she grew out of it, I bought it as a birthday present for my son, then aged 5. Now very reluctantly up for sale as my son has now outgrown it too, and a motorbike has taken its place! I'd say the age range is anything from 4yrs old up to 9/10 yrs, depending upon height.
An adult can easily drive it but you have to sit on the rear "boot" section to do so. I have a video of me driving it in the garden and through long grass etc, (I'm 11 stone), and it handles that with ease. If I can find a way to add the video to this ad then I will. Built using the Toylander as a basis for the design, but this is more representative of the scale of a series 3. Its a complete one off build with everything bespoke, with a metal chassis and a marine ply body, not cheap MDF etc.
The drive train is from a two speed mobility scooter, with independent drive motors to each rear wheel. There are two gel batteries, new approx 3 years ago, one front and one rear to give superb stability and a very low centre of gravity. The high and low speeds are switchable on the dashboard, and there is a variable speed control dial underneath the bonnet which can be set to give a maximum speed. Forward and reverse is controlled by a foot pedal, which has a soft start, and a stepless speed control.
Reverse uses the same footpedal and you can manouvre between forward and reverse seamlessly via the footpedal. Braking is electric through the drive motors and is very controllable, with taking your foot off the pedal bringing you to a stop rapidly. I converted the tubed tyres to solid puncture proof tyres and made split rim wheels to replace the originals so that tyre changing is simple if needed. All the lights work, front and rear and also the left and right indicators.
There are two motor protection cut outs and a battery level indicator. On full power the batteries last my son about 2 hours in our garden which is on a slope, then a charge of around an hour will give enough charge for another hours use at full power. At very low power settings, the charge lasts all day in normal use. The Landrover will easily carry a large 18st + adult.................
The trailer is built to vaguely resemble a Sankey trailer and is built to be used to actually carry things, with a drop down tailgate and captive clips. It'll happily carry two additional children and is very stable with a load in it. The trailer has been built to specifically be used off road and on rough terrain. Don't be fooled, this may look like just a kids toy, but it is actually a very capable truck. It has been built to last and to be repaired and worked on easily. My son has thoroughly enjoyed this and has used it lots hence the patina! And its now ready for a new home and adventures. Its always been kept inside and has never been used in the wet. The trailer wheels come off with a simple clip to assist with transportation, but the Landrover is very heavy and will require at least two people to lift it and a van or trailer to transport it.
The seat was professionally upholstered and the dust cover the same. The battery charger uses a progressive trickle charge to condition and maintain the batteries. Recovery bridle fitted to the front for when it gets stuck!
Very reluctant sale, but it must go to a new home. I'm not interested in any swaps or deals with your grandma's car. I'm happy to arrange a viewing and any inspection is welcome. Its collection only in person please from Nr Halesworth in Suffolk.
Please don't hesitate to ask any questions, and if you want any more photos then I'll do my best to oblige. The sale is for the Landrover, trailer, charger and dust cover as a package.

---