Landrover series 2a 88 Overlander camper 1967 off road expedition ready bug out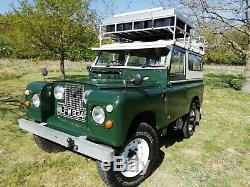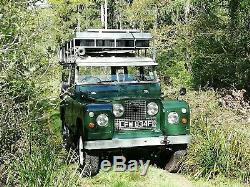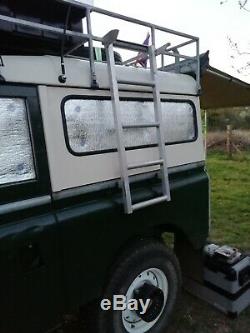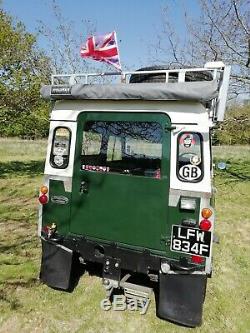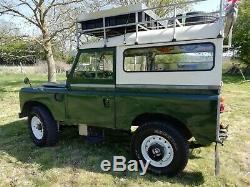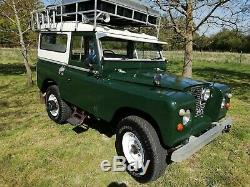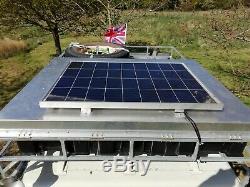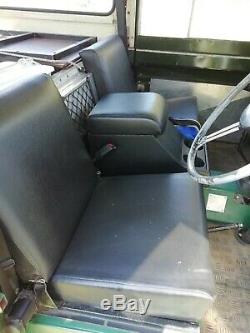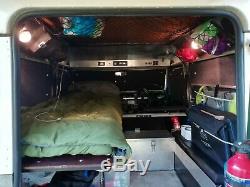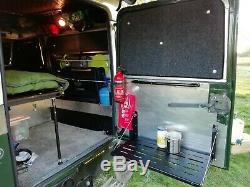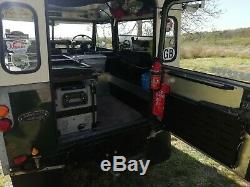 UPDATE: Now has 12months MOT. Most vehicles advertised as "overlander" or "expedition ready" are just a base vehicle with a roof tent. This is not that, but a ready to roll 1 person classic adventure wagon. Comfy to drive (in comparison to other old landies), probably the easiest of vehicles to fix wherever on the planet you are and also has the benefit of looking pretty cool at the same time, though function over form has always been the mantra here... She got me on a 3000 Mile road trip as far as Czech Republic and back in 2019 with only 2 minimal issues all easily fixed en route, so has been proven well too. Slightly difficult to describe without writing a book in competition with Encyclopedia Britannica but I'll give it a go, but be sure I'll miss something, so if your seriously interested please message me as many questions as you like, I do have many many other photos, but obviously can only use 12. 1967 series 2a Landrover 88 swb. Fully renovated over winter/summer 2015/16.
Etch primed and painted black only where visible. Discovery 200tdi engine fully serviced last in winter 2018. 9 row oil cooler mounted on a mounts in front of engine coolant radiator. STD series 3 radiator, new 2018. 2a gearbox with S3 bellhousing (better clutch mechanism) bearing refresh winter 2019.
Transfer box is standard and was rebuilt by Shabs at synchro gearboxes at time of rebuild. Fitted with Rocky mountain finned alloy transfer cover for extra cooling. Discovery 1 diffs front and rear. Extended pro comp shock absorbers. Late series 3 axles from a Marshall ambulance so has 11 spec brake drums all round. Extended stainless braided brake hoses all round. STD front springs, 4 leaf lwb type rear parabolic springs on rear. Poly bushed all round including chassis bushes. Speedo recalibrated to suit diff and tyre changes (by speedy cables). 4x General grabber AT3 235/85 16 tyres on wolf rims and locking wheel nuts all barely 18 months old. Additional Military spec fuel tank under passenger seat with separate fuel gauge on dash.
Changeover is made by a two way switch on dash and operated by electronic solenoids under central seat. Series 3 front wings to give quad head lamps (halogen) as early 2a front grill has lamps in too.
Outer lamps on dip, all 4 (plus dips as well as full beams on centre two) when on full beam, so its pretty bright when driving at night. Wiring loom front to back is of my own making with dip, high beam, fan, ignition and aux feed all on their own fused relays under the bonnet on bulkhead. Mostly colour coded for ease, but it's pretty logical and straight forward. Front seats are standard (non deluxe) from Exmoor trim, not the cheap britpart ones and are super comfy, almost like memory foam. Door bottoms were new at point of rebuild and they along with older but solid tops were drilled and wax oiled and then rubber grommeted before painting.
All 3 doors are sound deadened before fabricated alloy door cards fitted. Bulkhead was fully repaired on a jig by myself (fabricator/welder/engineer) with new floors and A posts before being blasted and wax oiled upside down in a warm room so as it got into all the nooks and crannies again before paint. Bulkhead, floors, seat base, bonnet and roof are all insulated with closed cell 12mm foam (foil backed where necessary).
Roof top interior is insulted and boarded in the rear housing netted storage 2 "6x9" speakers, stero amplifier, rear lights for night time, solar control unit, leisure battery condition display eberspacher heater control and a radio/usb/ hands free Bluetooth telephone head unit. Along with a few switches that are part of the camper side of things.
Now for the camper equipment... I'll try to be brief and to the point but alot of thought has gone into building this so might reflect in my description. The heart of the campers tech is a fabricated alloy chest in the lower part of the rear tub housing a leisure battery charged by a voltage dependant split charger from the main battery and also charged by a large solar panel on the top of the roof box lid. Leisure battery powered and Eberspacher D2 hot air heater (serviced in early 2019) which vents backward from the alloy chest and forwards into the cab area from the seat box (both vents are adjustable direction circular type). There is a 3 litre air tank and compressor inside too although it currently does not work.
Motor turns and rattles, but does not compress, which feeds the truck horn on the roof and also to aid the use of the airline stored behind driver's seat for blowing up tyres if needed. The leisure battery also has a high amp Anderson socket feed mounted just outside the box and a 5 meter Anderson socketed jump lead set inside the chest. This feed also powers the Outwell 35ltr compressor chest fridge the best thing I've ever bought for this vehicle! Which sits underneath the fixed part of the single bed. There is also a very nice compact hammock stored in one of the net pouches in the roof which can attach from the roof rack to a nearby tree. The bed comprises of bespoke fabricated frames with 10mm ply tops. The half inside the rear area stays put and the other half lifts up and slides forward and locates snugly and solidly onto the grab rail of the front bulkhead. I'm 5ft 8 and there's still another 8/10 of leg room when laying down. Outwell sleeping bag and dreamcatcher inflating roll matt included and will be dry clean before point of sale. Behind the driver's seat is a fold down full length alloy worktop for cooking and food prep if inside. There is a folding worktop on the rear door if prepping or cooking outside. Below the inside worktop is a seat base for sitting if eating inside using the bed frame as a table along with a snug storage area for gas bottle and is also the storage position for all cooking utensils, plates, cutlery set, chopping board, 2 ring Cadac brai2 gas cooker, less than a year old with a nearly full gas bottle. Under the bed is also a full set of Outwell saucepans. Regularly used food is stored in a movable box that sits on top of the alloy chest. Under the rear half of the bed base beside the fridge is a large folding camp chair which I prefer over my sofa at home. Stored up in the roof is a full set of custom made reflective backed blackout panels that fix to every window using suckers which act as curtains and also help keep the heat out in hot times and heat in at cold times.
S a modified Older Brownchurch roof rack which I welded more spars in the front half, modified the mounting points so it clamps on rather than drilling through the gutters. I also added mounting points for the invaluable 2m X 2m pull out rear awning, the alloy ladder that allows easy climbing up to the roof and also brackets to mount the truck horn.
I then sent the whole thing for stripping and re galvanizing. The alloy ladder is used with the drum steps on each rear wheel (also known as bush winch for winding yourself out if you get stuck). The ladder also doubles as an arm for holding the solar (black bag type) shower which is included. Spare wheel is also on the roof along with 6 front runner style storage boxes which are locked down by a hinged lifting alloy lid that is padlocked. On top of this lid is the solar panel.
The boxes, The contents including tools, smaller spare parts, hd bottle jack, electronic spares, wires fuses, fan belts, hubs and new bearings as well as oil, some fire wood, folding BBQ, spare set of pans, folding buckets, extra pegs for awning, washing powder, clothes line, clothes pegs etc. All your dry food and your clothes can be stored in the other boxes (3 empty currently). There is a 20ltr water tank mounted on the roof when traveling (not pictured) which has a tap and hose-lock fittings and a brass tap solidly mounted to the rear cross member to give running water "on tap" to the back of the vehicle. Is a lockable security box inside the central cubby box for high value belongings. Fire extinguisher, first aid kit and fire blanket mounted on the inside of the rear door.
Spare gaskets, half shafts and selection of nuts and bolts stored behind passenger seat. All rear floor and side boxes are carpeted and carpets are bound edges (with a full spare set for when these get too dirty).
All easily removable external items are all individually padlocked and keyed alike so one key fits all. 3 sets of keys included with one full set in a keypad box lock if you lose a set bolted to the inside of engine bay. Paint is very good, but not showroom. It has been used and was an old vehicle before I rebuilt it, so there are a few scratches and dents but still looks bloody good. Old English white and British racing green in 2k which is impressively resilient and tough.
I'm sure there are many points I have missed, but if you've got this far you are probably interested, so please ask away. There truly are many years of actual blood sweat and tears (good and bad) in this Landy.
I genuinely love it, it is part of me, and will probably shed a tear to see her go. I've travelled huge chunk of Europe and seen A lot of Wales too and she has always got me where I wanted to go. But now I need something bigger as I want to bring my daughter and girlfriend too next time. Viewing more than welcome but allow quite a while so I can show you it all.
I would welcome any test drive on local farm land. Addition, if youve got a "bad knee" remember you cannot move the seats. If you want to tow a massive trailer, it has drum brakes (albeit very good) and it does NOT have power steering. Cash on collection or cleared bank transfer only please. Thanks for reading my essay. The item "Landrover series 2a 88 Overlander camper 1967 off road expedition ready bug out" is in sale since Friday, September 4, 2020. This item is in the category "Cars, Motorcycles & Vehicles\Classic Cars\Land Rover".
The seller is "pallettmark" and is located in Buckingham. This item can be shipped worldwide.

---